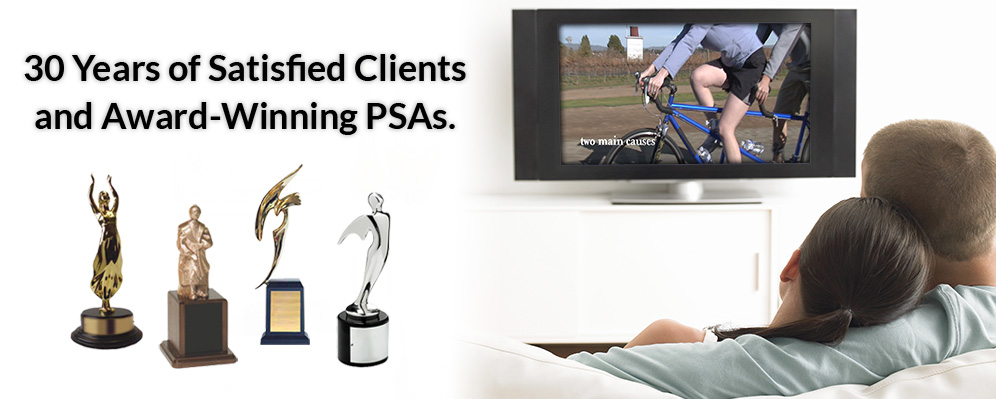 Considering PSAs?
Don't try to figure it out yourself.
Talk to the PSA Experts at
Salo Productions

today.
Make National TV & Radio Work for You
Have you ever had dreams of communicating an important message to an audience of millions?
Have you assumed television to be out of reach of your company's or organization's budget?
There is way to get national TV airtime for your message that is within your organization's reach.
A TV PSA, professionally produced and distributed by Salo Productions, will achieve national air time at a fraction of the cost of the equivalent commercial time.
The Salo Productions TV PSA
GUARANTEE
The key is to enlist the right expert help. Attempting it on your own, results are uncertain at best. Your release may get no traction and no airplay at all.
Working with the PSA experts at Salo Productions, your release is guaranteed airplay. We are currently guaranteeing 3,000 plays minimum, for all TV spots produced and distributed by Salo Productions in 2019.
Almost any message can be adapted into a successful PSA, and Salo Productions provides expert guidance from start to finish.
In 30 years of producing national TV and radio PSAs, our clients have discovered Salo Productions PSAs to be the most cost-effective investment in broadcast media.
Four Reasons Why Public Service Announcements Offer Good Value
1) Deregulation
Ever since the TV industry was deregulated in the 1980s the boundaries for Public Service Announcements keep expanding. No longer must PSAs be only about health and safety. Today PSAs cover a broad range of useful information.
In many ways, public service has become public information.
2) Influence of cable stations
The spread of cable stations means that standard commercial TV stations are faced with more unsold time periods than previously. These open spots must be filled with something, and PSAs are a handy choice.
3) Nielsen Sigma electronic tracking
Sigma tracking reveals the exact time of day of PSA broadcasts. Telecasts occur throughout the broadcast day. Late night is about 25%.
4) Web sites
A Web site or phone number at the end of a PSA can generate direct response.
Our Areas of Expertise
health & fitness

education

travel & hospitality

lifestyle

sports marketing

food & beverage

issues & causes
PSA Testimonials
"PSAs are a specialty that require a focused and dedicated effort. You have proven again and again that you have cornered the market on this specialty. Your results have exceeded even our lofty expectations."
– Mark Beal
Managing Partner
Taylor
"Salo Productions made the whole process, from concept to filming to distribution, an easy and affordable project."
– David Harrison
Strategic Marketing Director
Alaska Seafood Marketing Institute
"For PSAs, Salo Productions is on target from start to finish. PSA concepts, scripts, talent, production and distribution are expertly handled, assuring very successful results."
– Brenda McDowell
Principal
McDowell & Piasecki Food Communications
Our Areas of Expertise
health & fitness
education
travel & hospitality
lifestyle
sports marketing
food & beverage
issues & causes
PSA Testimonials
"PSAs are a specialty that require a focused and dedicated effort. You have proven again and again that you have cornered the market on this specialty. Your results have exceeded even our lofty expectations."
– Mark Beal
Managing Partner
Taylor
"Salo Productions made the whole process, from concept to filming to distribution, an easy and affordable project."
– David Harrison
Strategic Marketing Director
Alaska Seafood Marketing Institute
"For PSAs, Salo Productions is on target from start to finish. PSA concepts, scripts, talent, production and distribution are expertly handled, assuring very successful results."
– Brenda McDowell
Principal
McDowell & Piasecki Food Communications